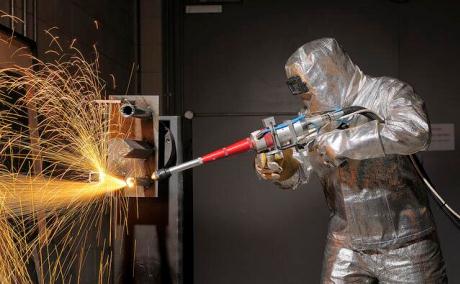 08.10.2013
Laser gun makes the cut in decommissioning
Independent research and technology group TWI is working with the UK's Nuclear Decommissioning Authority (NDA) and various site licence companies to develop laser cutting technologies for dismantling and size reduction applications during plant decommissioning.
One of the technologies TWI has developed is a hand-held laser for cutting up metallic structures - such as piping, vessels and support structures - in low-hazard environments. The group has also developed laser technology for remote in-situ dismantling using a 'snake-arm' robotic manipulator. It has also worked with Sellafield on lasers that can be used for cutting up redundant fuel skips so that more can be packed into waste containers.
While initially developed for use in the UK, TWI says that the laser technologies have attracted interest from Europe, the USA and Japan. According to TWI, "A challenge common to all nuclear installations is the dismantling and size reduction for cost-effective storage of contaminated metallic infrastructures." Laser cutting, which can be performed in both air and underwater, "offers significant economic, technical, operational and societal benefits compared to competing techniques."
In previous work, the NDA awarded a contract to TWI in March 2009 to develop prototype equipment for demonstrating a laser that could both cut steel tubing and remove the surface layer of contaminated concrete.