27.06.2022
Alcoframe - silver medalist of the "Best Exhibit" competition from the "Kuzbass Fair"
The Laser Systems company took part in the largest technological fair in Kuzbass, which annually unites three international exhibitions at its site in Novokuznetsk: Coal of Russia and Mining, Subsoil of Russia and Safety, labor and life safety.
Laser Systems presented at its exhibition stand an alcoframe|pro with increased throughput and the possibility of continuous testing of personnel for alcohol in a streaming mode, without creating queues at the entrance of the enterprise. The work at the exhibition stand traditionally took place in a demo format, when everyone could test the alcoframe online and make sure of the instant speed and accuracy of its work.
During the exhibition, among the participants there was a competition "The Best Exhibit", where the alco frame took second place and received a silver medal from the organizers - the Exhibition Company "Kuzbass Fair".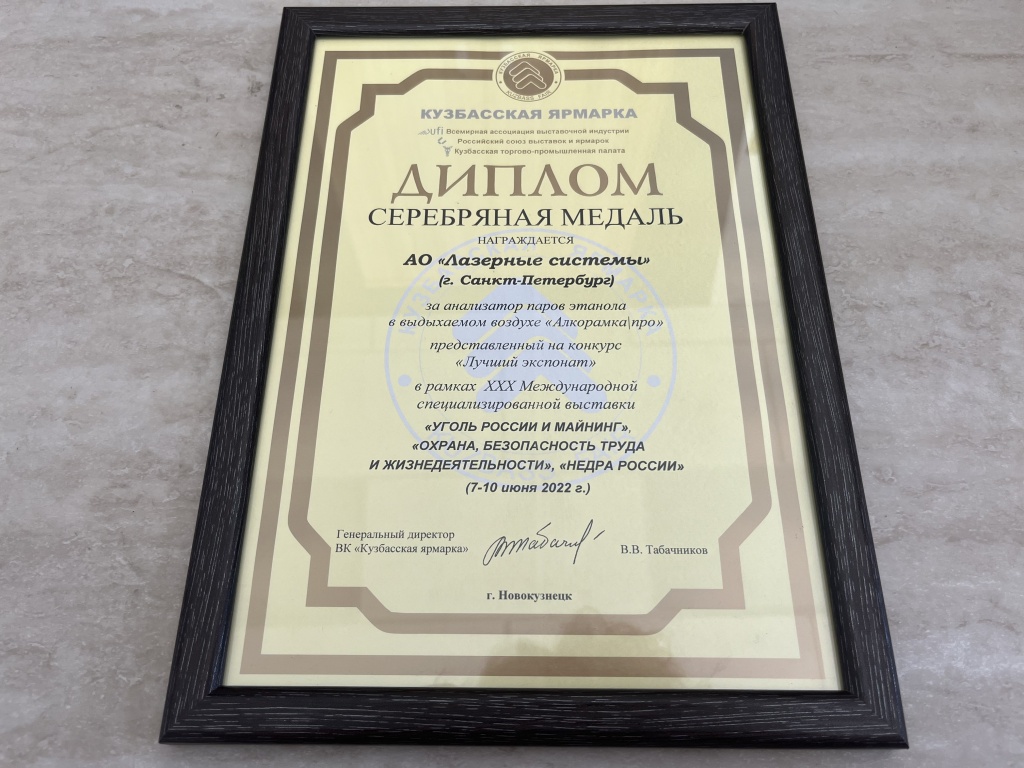 The event "Coal of Russia and Mining" occupies a leading position in the all-Russian exhibition rating and is recognized as the largest in Russia on the topic "Natural Resources. Mining industry" in all nominations. Together with the Russian Coal and Mining exhibition, two more international exhibition projects are running: Occupational Safety, Health and Safety and Subsoil of Russia. Three exhibitions form the only communication platform in the country for all sectors of the mining industry. The main objective of the exhibitions is to demonstrate the latest mining technologies and bring together companies from all sectors of the mining industry on one site.
Approximately 450 industrial companies brought their latest developments to the event in 2022, which were located on an area of ​​50,000 square meters.