22.07.2021
3D printing - forming a niche opinion
The July issue of the journal Industrial Pages of Siberia takes readers into a historical excursion into the development of additive technologies and tells how the laborious, expensive and unpromising direction of 3D printing in the late 1980s was transformed into an indispensable industry engine in three decades.
Since the 1990s, the additive technology segment has rapidly gained momentum and has gone far beyond the research and development activities for which it was originally created. At first, specialists significantly reduced the cost and more widely spread 3D production, having learned how to print products from molten plastic filament layer by layer, and after a while they also mastered printing with metal powders.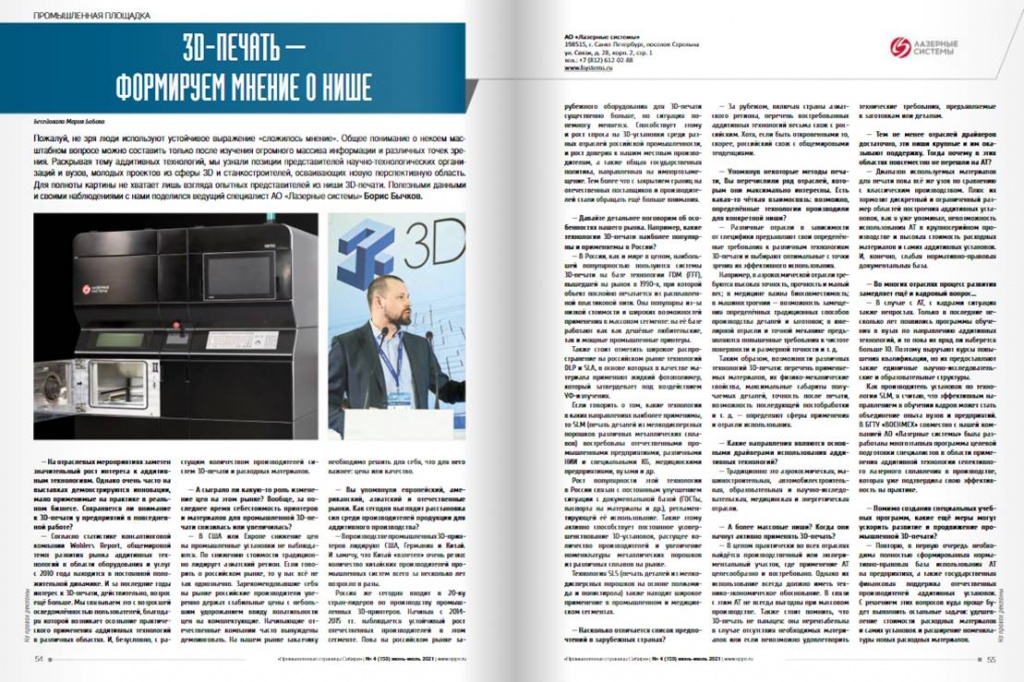 The technology of 3D printing of parts from fine powders of various metal alloys is called SLM (Selective Laser Melting), which in translation sounds like selective laser melting. This technology, based on the use of a high-power laser, is in great demand today by domestic industrial enterprises.
It is on the basis of SLM that the 3D printers of the Laser Systems company were created. They are intended for growing from metal powders of various alloys - unique single and small-scale parts of complex shapes that cannot be produced using traditional technologies.
More details about SLM and other most popular and used 3D printing technologies in Russia were told in an interview with the magazine. And also about how the alignment of forces among manufacturers of products for additive manufacturing looks today and what areas are the main drivers of the use of additive technologies.
Read full article