01.06.2021
"Laser Systems": innovation as a form of financial support
Laser Systems is a leading Russian manufacturer of laser and optoelectronic equipment for a wide range of industrial applications in areas such as meteorology, aviation, environmental protection, space research, as well as high-tech additive manufacturing.
The company "Laser Systems", founded in 1998, has 180 employees, many of whom are high-class specialists with more than 20 years of experience in the field of innovation and modern production. Lazernye Sistemy has received ISO 9001 certification, which is a clear proof of its commitment to quality assurance.
The company's product line includes a number of high-tech solutions, including lidar equipment for monitoring, measuring, tracking and predicting weather conditions (wind speed, turbulence, cloud cover, etc.) and various natural phenomena.
In 2012, Laser Systems presented a new product - an alcohol frame (known as ALCOFRAME in foreign markets). This is a contactless express breathalyzer for employees of enterprises engaged in hazardous industries (mining and chemical industries, as well as power plants), where alcohol intoxication endangers the safety of workers and the production process in general.
In 2019, Alcoramka has been modernized. Today, this system is used by more than a thousand companies in Belarus, Kazakhstan and Russia, providing operational control of the status of employees. "Our new equipment is more convenient to use. You just need to exhale in the direction of the alcohol frame. In just a few seconds, the device will carry out the necessary analysis and present the result in the form of a color signal, - explains Alexey Morozov, General Director of Laser Systems. "This solution is more hygienic, more sensitive and virtually maintenance-free. No need to calibrate or change sensors. In addition, the device is equipped with a self-diagnosis system. "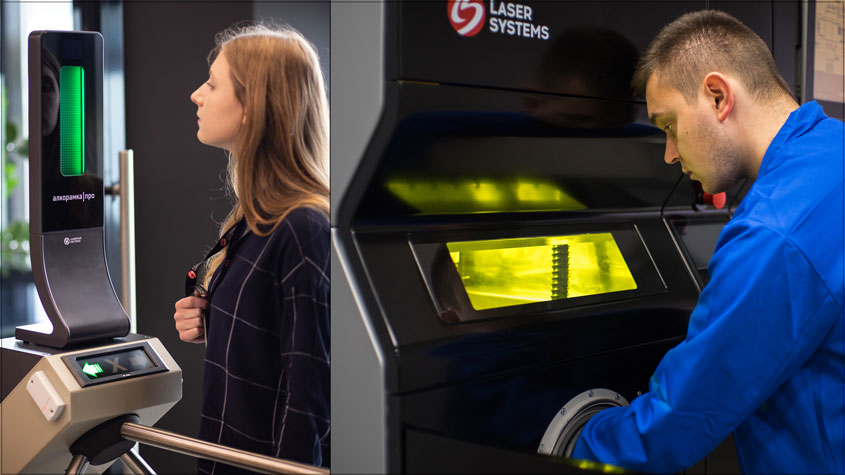 The most important priority for Laser Systems is to create efficient and reliable products and technological solutions for its customers, such as alcohol frames and laser fusion 3D printers.
(Photo: © provided by Laser Systems)
"Laser Systems" is actively working on new additive technologies and develops innovative 3D printers for fusing metal products. Thanks to the company's solutions, production processes are being modernized, which ensures high demand for its products in a number of industrial sectors. In addition, the company continues to develop and expand the line of alcohol frames in order to ensure a high level of safety for employees in production.
In 2021, the Laser Association awarded Laser Systems with several awards at once for the development of laser equipment. The company's portfolio includes more than 100 patents and certificates, which confirm the uniqueness of its technological solutions and devices.
"The company's business strategy has always provided for the protection of intellectual property (IP), since many developments and solutions of " Laser Systems "are unique and have no analogues in the world, and this is a great strategic advantage over competitors," said Morozov.
Like many innovative high-tech SMEs, over the two decades of its existence, Laser Systems has faced a number of problems related to financing and support from the state. Typically, innovative companies whose business is based on research and development have a very limited amount of tangible assets that can be used as collateral to raise funds for development.
However, the situation has improved dramatically since the government introduced a new financing mechanism for knowledge-intensive companies in 2019 to facilitate their development. Within the framework of the federal project "Expanding the access of SMEs to financial resources, including concessional financing", adopted by the Ministry of Economic Development of the Russian Federation, Laser Systems JSC and other similar organizations can now use their IP rights as financial security.
Thanks to its impressive IP portfolio with more than one hundred patents, Laser Systems JSC became the first company to receive a loan under the new scheme.
"Our more than 20 years of efforts to expand the patent portfolio finally paid off in 2019, when the Ministry of Economic Development of the Russian Federation launched a new project. With the help of our patent portfolio, we were able to obtain a loan, which guaranteed the further development of the company and made it possible to launch two new products on the market in just 12 months - and this despite all the difficulties caused by the Covid-19 pandemic, "Morozov said.
"The experience and skills we have gained have also allowed us to sign a number of commercial contracts for the launch of a new product line, which will enter the market this year," Morozov said. Participating in various business associations and forums, the company today actively advises entrepreneurs on the use of IP objects.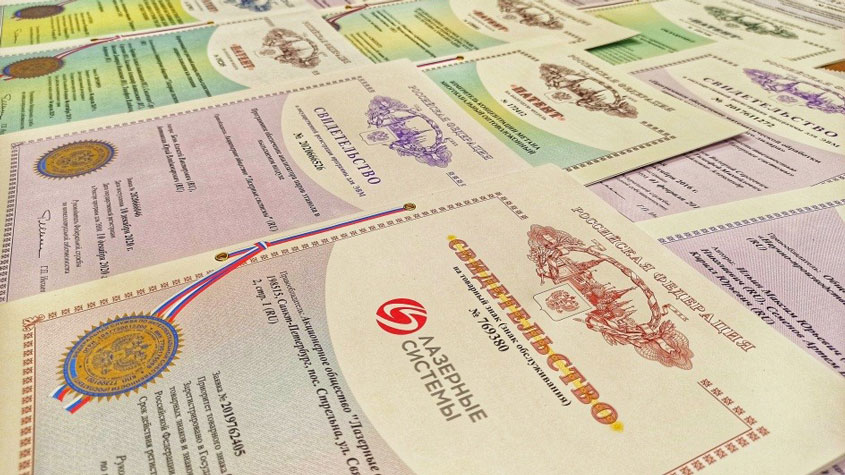 The portfolio of Laser Systems includes over 100 patents. (Photo: © provided by Laser Systems)
Providing Laser Systems and other similar companies with the opportunity to use their IP objects to attract the necessary funding, this project gave a new impetus to the development of science-intensive areas of Russian industry. In addition, this mechanism guarantees a constant flow of new and updated technical solutions to the market.
IP is the backbone of many R&D SMEs, and its growing acceptance as financial security represents a significant step forward in supporting innovative technologies.
"Our experience shows that targeted government support for IP is urgently needed. The market has been waiting for her for a long time. This scheme is a positive step, but much remains to be done in Russia to support the development and growth of high-tech enterprises like ours. We plan to continue to use IP to strengthen our business, "Morozov said.
Original source:
World Intellectual Property Organization